The Common Admission Test is the most important exam for all students in India wishing to secure a seat in the prestigious IIMs. Lakhs of students write them each year, but only a small fraction of them land up in the college of their dreams. Read on to find out more about the syllabus, important dates, and tips & tricks.
In today's world, a lot of people take up management programs in the hopes of climbing up the corporate ladder. In India, lakh of students enrol into management programs each year. With this level of competition for management jobs, most people try their best to get into top business institutes like IIMs, IBS, etc.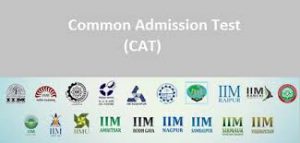 You can do this by clearing the Common Admission Test (CAT). An institute may accept you based on your percentile score. This test is conducted every year by the IIMs.
Important dates for CAT 2019:
Registration: August 2019
Admit card release: October 2019
CAT Exam: November 2019
ELIGIBILITY:
The candidates must:
Have a bachelor's degree in any discipline with a CGPA/score of a minimum of 50% or its equivalent for the general merit stream, and 45% for other categories, namely ST, SC, DA, PWD.

The degree must be from a university consolidated by an act of the central or state statutory body in India or other instructive organisations built by an act, or parliament, or deemed a university under Section 3 of the UGC Act 1956, or be recognised by the Ministry of HRD, GoI as a university.

Those who are appearing for their final year bachelor's degree exam can also apply. But they can only enrol if they can produce the certificate for the same within a set amount of time.
Check iimcat.ac.in for more.
PARTICIPATING INSTITUTES
All IIMs, Great Lakes Institute Chennai, IBS, Symbiosis, IIT Rourkee, etc.
FORMAT for CAT:
This computer based exam has the following sections: Data Interpretation and Logical Reasoning, Verbal and Reading Comprehension, and Quantitative Ability.
The exact exam pattern changes every year, however the duration remains 3 hours long.
SCORING:
Here, 2 types of scores come into play- a scaled score and a raw score.
The raw score is calculations:
+3 for every correct answer
-1 for every wrong answer
0 for unattempted questions
This score is then adjusted to produce the scaled score. Here is a table showing the trend of CAT results upto 2017: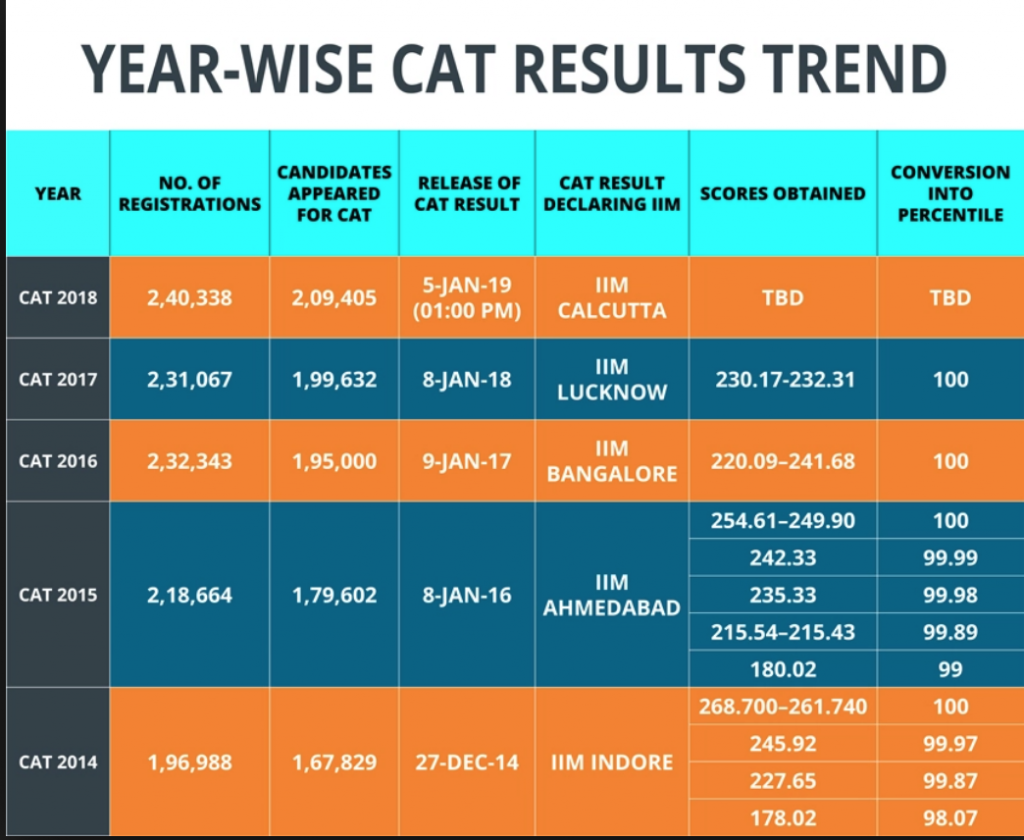 HOW TO PREPARE:
This exam is highly competitive. Many colleges only accept percentiles higher than 99. It is stressful to study for this exam on your own. Many turn to online educational platforms in order to supplement their studies.
One such wonderful platform is Edureify, which provides material on each topic, mock exams, and tuition to GMAT aspirants. Edureify provides a topic-wise set of questions specific to the GMAT.  
The platform also has a dedicated set of teachers who specialise in English. You can request to be tutored by them to improve your performance. With over 650000 questions per topic and teachers with over 7 years of experience in the education industry, Edureify challenges you while also helping you find the answers in your own time. This is a convenient option as compared to heading to a coaching centre.
Edureify designs solving sets in levels of increasing difficulty designed to test your preparation. This is especially helpful in the computer-adaptive tests. In addition to this, be sure to participate in the HOTs quizzes.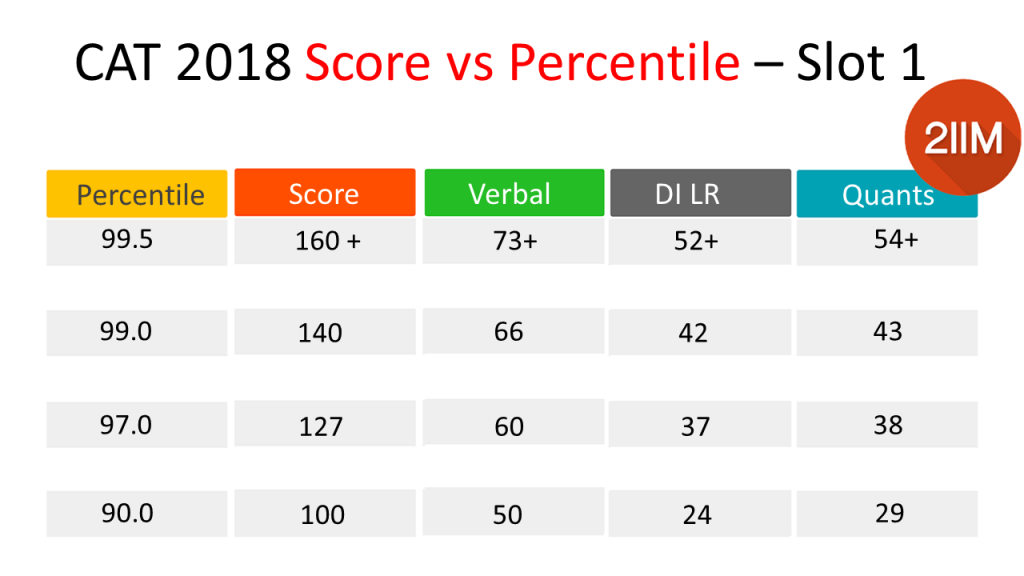 With hard work, and a little help, you can get the perfect GMAT score.  To know more, visit edureify.com.
FEW IMPORTANT TIPS:
Do not use your mobile phone/laptop/TV/iPod, etc while studying, as it can cause major distractions.

Get a good night's rest the day before the exam. Try not to study anything new 24 hours before the exam. Just revise what you already know.

Reach the exam venue at least 1 hour before exam start time just in case there may be traffic. DO NOT ARRIVE LATE.

Try to be cool and calm during the test.

If there is negative marking, do not guess any answers. 
If you keep all these points in mind and prepare ahead of time, you will do well. Remember, you can accomplish any goal with hard work. Good luck to all CAT aspirants!