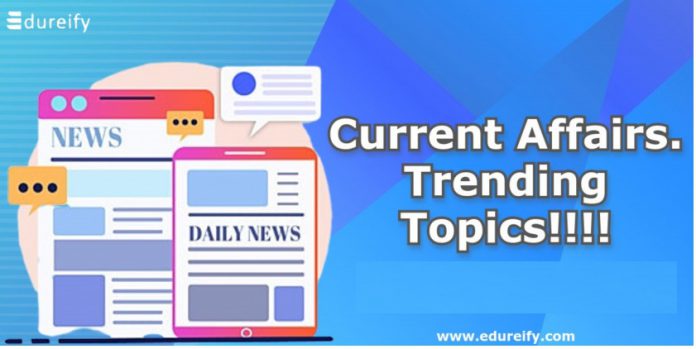 Current affairs forms an important part of government exam preparation such as WBCS, SBI, RRB, RBI, etc. The wide sources available confuses the candidates a lot these days. So, it's necessary to find a constant source of current affairs in any exam's preparation. Edureify, the best AI learning app brings you the best daily current affairs which is compiled from the best newspapers and other sources. 
Read the daily current affairs and score high in the current affairs section easily. You can also refer to the weekly news.
National Current Affairs
1)Ministry of Social Justice launches SMILE-75 initiative.
The Ministry of Social Justice & Empowerment, Government of India, has identified 75 Municipal Corporations to implement comprehensive rehabilitation of persons engaged in the act of begging under "SMILE: Support for Marginalised Individuals for Livelihood and Enterprise" named as "SMILE-75 Initiative".
2)IAF to Participate in Military Drills 'Udarashakti' with Malaysia
Indian Air Force (IAF) contingent left for Malaysia to participate in a four-day bilateral exercise 'Udarashakti' with the Royal Malaysian Air Force (RMAF).

The exercise will give an opportunity to the IAF contingent members to share and learn best practices with some of the best professionals from the RMAF, while also discussing mutual combat capabilities.
International Current Affairs
1)Russia successfully launched Iran's satellite into orbit
Russian rocket has successfully launched an Iranian satellite into orbit from southern Kazakhstan.

An Iranian satellite named Khayyam into orbit by the Soyuz rocket from the Russia-leased Baikonur launch facility in Kazakhstan. The name of the satellite was named after Omar Khayyam, a Persian scientist who lived in the 11th and 12th centuries.
Business and Economy News
1)Reserve Bank Of India's 1st Set Of Digital Lending Norms
All digital loans must be disbursed and repaid through bank accounts of regulated entities only, without pass-through of loan service providers (LSPs) or other third parties.

The guidelines, aimed at curbing rising malpractices in the digital lending ecosystem, follow the recommendations of a working group for digital lending, whose report was made public in November 2021.
2)Retail Inflation Eases To 6.71% In July
Retail inflation softened to 6.71 per cent in July due to moderation in food prices but remained above the Reserve Bank's comfort level of 6 per cent for the seventh consecutive month.

With retail inflation continuing to remain high despite a fall in prices of vegetables and edible oils, among other commodities in July, the Reserve Bank of India (RBI) might go for another rate hike in September.
Sports News
1)1st edition of Women's IPL to be held in March 2023
The 1st Edition of  Women Indian Premier League will be starting from March 2023 to be held in a one-month window and in all likelihood with five teams, a senior BCCI official confirmed.

The BCCI bigwigs have discussed the issue and a March window has been found for the tournament after the Women's T20 World Cup in South Africa.
Political News
1)Senior Congress leader Shashi Tharoor to receive France's highest civilian award
Senior Congress leader Shashi Tharoor, set to be conferred with France's highest civilian award Chevalier de la Legion d'Honneur.

The French government is honouring him for his writings and speeches and the French Ambassador here Emmanuel Lenain has written to Tharoor informing him about the award.
Miscellaneous News
1)5th elephant reserve in Agasthyamalai landscape announced by Tamil Nadu
The proposal to designate 1,197.48 sq.km in Kanyakumari and Tirunelveli as the Agasthyamalai Elephant Reserve was approved by the Union Environment Ministry.

Tamil Nadu will oversee this Agasthiyarmalai Elephant Reserve, which is the fifth elephant reserve. The forest department may be eligible for additional financing through the centrally sponsored Project Elephant after notifying the Agasthiyar Malai Elephant Reserve.
This was the wrap up of today's current affairs edition. Candidates must solve the daily current affairs quiz for sheer practice.