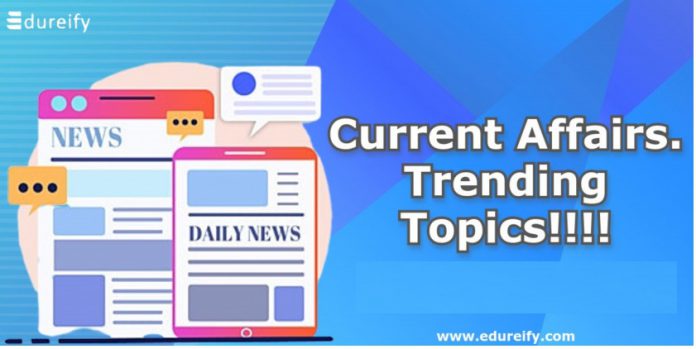 Current affair is an important part of government exam preparation such as WBCS, SBI, RRB, RBI, etc. The wide sources available confuse the candidates a lot these days. So, it's necessary to find a constant source of current affairs in any exam preparation. Edureify, the best AI learning app brings you the best daily current affairs which are compiled from the best newspapers and other sources.
Read the daily current affairs and score high in the current affairs section easily. You can also refer to the weekly news.
National Current Affairs:
Goa Becomes 1st State to Provide Tap Water Connections to All Rural Homes
Goa became the first state to get certified under 'Har Ghar Jal' with 100% coverage.
All 2.63 lakh households in both districts of the state have now been provided potable tap water connections, at a cost of over Rs 200 crore in the past three years.
Among UTs, Dadra and Nagar Haveli and Daman and Diu have taken the lead and completed certification with potable tap water connectivity to all 85,156 rural households.
Haryana, Telangana, Andaman and Nicobar Islands and Puducherry have reported 100% coverage, but are yet to be certified. While other states such as Punjab (99.9%), Gujarat (97%), Bihar (95.49%), and Himachal Pradesh (94.85%) are also inching closer to the target.
However, the work is yet to gain momentum in 13 big states, including Uttar Pradesh, which accounts for 95% of the residual work.
India and Vietnam wrap up a joint military exercise
A nearly three-week military exercise carried out jointly by the armies of India and Vietnam VINBAX 2022 concluded in Chandimandir.
The Indian Army said it was for the time that the Vietnam People's Army (VPA) undertook a field training exercise with a foreign army.
The final validation exercise nicknamed 'Men in Blue' was built around the setting up of a base in a remote African location faced with myriad challenges.
Nitin Gadkari unveils India's first electric AC double-decker bus in Mumbai
Union minister for road transport and highways Nitin Gadkari unveiled India's first electric double-decker air-conditioned bus in Mumbai.
The Brihanmumbai Electric Supply and Transport (BEST) introduced the first bus of its newly acquired electric double-decker air-conditioned bus.
The electric bus was manufactured by Switch Mobility, Ashok Leyland's electric vehicle arm, and can reportedly ferry twice the number of seated passengers.
The company is in a contract with BEST for the supply of 900 electric buses in phases.
Of these, 50 per cent of buses are expected to be delivered by March 2023 and the remaining 50 per cent thereafter.
PM Modi sets 'Panch Pran' target for the next 25 yrs
Prime Minister Narendra Modi said the time has come to cleanse the country of corruption and nepotism and asked people to have 'nafrat' (hatred) for these twin evils that go beyond politics, as he set a 'Panch Pran' (five resolves) target to make India a developed nation in 25 years.
"The nation should now only be setting big goals.
That big goal is a developed India and nothing less," Modi asserted in his ninth consecutive address from the ramparts of Red Fort on the country's 76th Independence Day, as he also highlighted the challenges of dynastic politics.
International:
Indian company NHPC to develop Nepal hydropower plant left by China
Nepal has signed a pact with an Indian company NHPC to develop a hydroelectric plant in the west of the nation years after a Chinese firm backed out.
Nepal has opened its rivers, which it sees as having a combined potential to generate more than 42,000 megawatts of hydroelectric power, to foreign players to develop its economy and export electricity to narrow the trade deficit of more than $13 billion.
India's NHPC Ltd. signed a memorandum of understanding (MOU) allowing it to study details like feasibility, environmental impact, inundation of land and construction costs for two projects – West Seti (750 megawatts) and SR 6 (450 megawatts).
Both plants are to be located on the West Seti River in Nepal's least developed far western region.
Nusantara: Indonesia celebrates first independence day at future capital
Indonesia celebrated its first independence day at its future capital in the ancient rainforests of eastern Borneo as the nation plans a move away from the slowly sinking, traffic-clogged Jakarta.
Nusantara, which is 2,000 kilometres (1,200 miles) from Jakarta, is set to become the new political centre of the world's fourth-largest country.
Jakarta is home to 30 million people in its greater metro area, and it has long been plagued by serious infrastructure problems and flooding exacerbated by climate change.
Business & Economy:
IIT Bombay, JSW Group tie up to establish tech hub for steel making
IIT Bombay and JSW Group have entered into an exclusive agreement to establish a first-of-its-kind JSW Technology Hub in India for steel manufacturing. JSW Steel, a leading steel company, is a part of the Group.
IIT Bombay has created The Centre of Excellence in Steel Technology (CoEST) with support from the Ministry of Steel, the Government of India, and other industry partners.
The JSW Technology Hub will be established within the CoEST with the key objective of achieving a rapid expansion of quality steel production while maintaining carbon emissions within the target levels.
"The partnership with IIT Bombay will also allow JSW Group to undertake and intensify R&D efforts in the steel sector to develop competent capabilities in the area of steel technology for the Indian conglomerate.
HDFC opens its first all-women branch in the north Kerala region in Kozhikode
To enhance gender diversity in the banking sector, HDFC has opened its first all-women branch with four women bankers in the north Kerala region in Kozhikode.
The branch is located in Cherootty Road, the hub of traders in the district.
Branch Banking Head South (Tamil Nadu, Puducherry & Kerala) Sanjeev Kumar said, the opening of the all-women branch is yet another example of their efforts to take forward gender and diversity in initiatives of the bank.
Science & Technology: 
Delhi is world's most polluted city, says report; Kolkata takes the second spot
New Delhi has topped the chart as the most polluted city in the world as per the global analysis of air quality.
While Delhi took the top spot, another Indian city, Kolkata, was number 2 according to the report, Air Quality and Health in Cities, released by US-based Health Effects Institute.
The report analyses pollution and its health effects from it in more than 7,000 cities around the globe. The analysis was done focusing on two of the most harmful pollutants, fine particulate matter (PM2.5) and nitrogen dioxide (NO 2).
India's HAL opens its first overseas office in Malaysia for LCA Tejas
In a first, India's largest defence public sector undertaking (DPSU), Hindustan Aeronautics Limited (HAL) has announced that the entity is going to establish an office in Kuala Lumpur (Malaysia).
This is an important step as the defence sector has achieved significant growth in exporting military equipment, despite being a late starter in the highly competitive global defence market.
The office in Malaysia will help HAL in tapping the new business opportunities for Fighter Lead-in Trainer (FLIT) LCA and other requirements of the Royal Malaysian Air Force (RMAF) like Su-30 MKM and Hawk upgrades.
It will reinforce the commitment of India to supporting the Malaysian Defence Forces and industry for sustainable aerospace and defence landscape in Malaysia.
Sports:
FTX Crypto Cup
The eight-player all-play-all tournament is the American finale of the Champions Chess Tour.
There is USD 7,500 at stake for each match won at the event.
Miscellaneous:
World Photography day
World Photography Day is commemorated every year on 19 August.
On this day, photography enthusiasts come together to celebrate this beautiful art.
The devices used for taking photographs have gone through dramatic developments in technology. But the essence and language of photography have remained the same.
Photography is a wonderful way to capture and immortalise the moments.

This was the wrap up of today's current affairs edition. Candidates must solve the daily current affairs quiz for sheer practice