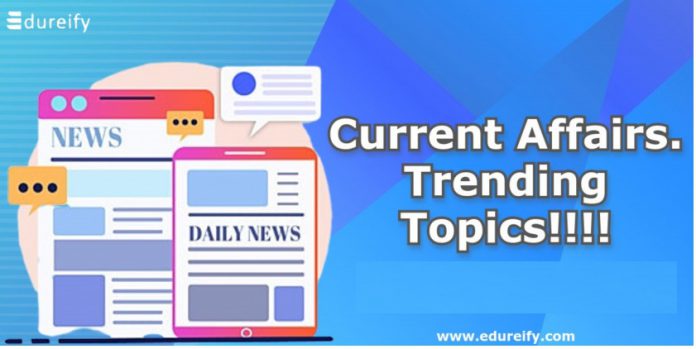 The most important and scoring part in a general competition is current affairs and this is so because current affairs depends totally on revision and reading about it from a correct source. Edureify, the best AI learning app, brings daily current affairs which will be helpful for the students in maximizing their marks. 
Also download the daily current affairs pdf and save it for further reference.
National Current Affairs
1)Center modifies Flag Code of India 2002 to permit tricolour to be displayed constantly
If the national flag is flown in the open and is raised by a member of the public, it may now fly through the night. The Flag Code of India 2002 was revised by the Ministry of Home Affairs.

The ministry stated that clause XI of paragraph 2.2 of the Flag Code has been substituted by the following phrase: "where the flag is displayed in the open or displayed on the house of a member of the public, it may be flown day and night."
2)Akshaya Moondra appointed as CEO of VI, replaces Ravinder Takka
Vodafone Idea, a telecom Company, said that Akshay Moondra, who currently serves as chief financial officer, has been promoted to CEO with effect from August 19.

According to the filing, Ravinder Takkar, the business's current managing director and chief executive officer, will remain on the board of the company when his tenure is up as a non-executive and non-independent director.
International Current Affairs
1)International Conference on Chemistry and Applications of Soft Materials
The CSIR-National Institute for Interdisciplinary Science and Technology (CSIR-NIIST), Thiruvananthapuram, will host an International Conference on CASM 2022.

Discussions on a variety of subjects, including self-assembly and supramolecular materials, soft material chemistry, physics, rheology, and photophysics, responsive and smart materials, gels, liquid crystals, polymers, macromolecules and framework materials.
2)China launches "Wentian," second of its three space station modules
China launched the second of the three modules needed to complete its new space station. This was the most recent development in Beijing's ambitious space programme.

A Long March 5B rocket launched the unmanned spaceship with the call sign Wentian from the Wenchang launch facility on China's tropical island of Hainan. A representative from the China Manned Space Agency (CMSA) confirmed the launch's "success."
Sports Current Affairs
1)Neeraj Chopra Wins Silver in World Athletics Championship 2022
Neeraj Chopra has won a silver medal in the world athletics championship 2022.

In his fourth attempt, he managed to record a throw of 88.13m, with this historic performance he became the only second Indian Athlete to win a medal at World Championship, after Anju Bobby George who won a bronze medal in Long Jump at the 2003 World Championship.
Business and Economy News
1)Forex reserves decreased by USD 7.5 billion to USD 572.7 billion
The Reserve Bank of India (RBI) most recent data shows that during the ending week of  July 15, India's foreign exchange reserves decreased by $7.5 billion.

The reserves have dropped to their lowest level in 20 months, or since November 6, 2020, when they were $568 billion.The report showed that foreign currency assets, which decreased by $6.5 billion over the week, were the main cause of the reduction in foreign exchange reserves.
Miscellaneous News
1)Kargil Vijay Diwas 2022: All you need to know about India's victory over Pakistan
Kargil Vijay Diwas is the celebration of India's historic win over Pakistan on July 26, 1999.

The Indian Army successfully removed Pakistani forces who were illegally occupying a hilltop at the Indian side of the Line of Control (LoC) at Kargil, Ladakh. To commemorate this victory and remember those who sacrificed their lives for this country, Kargil Vijay Diwas is celebrated annually in India on July 26.
This is the wrap up of today's edition of daily current affairs. You must solve the daily current affairs quiz for more sheer revision.
Also read the previous day current affairs in case you have missed the important updates.