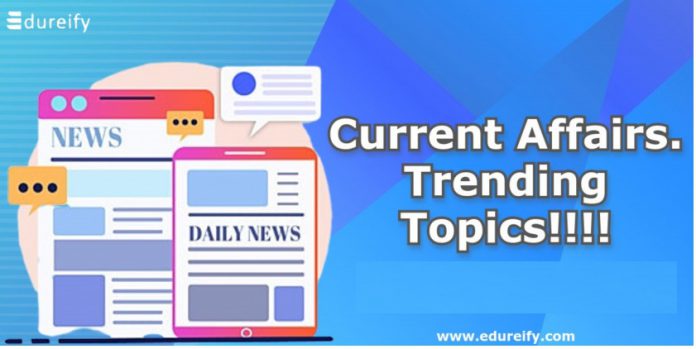 Daily Current Affairs are an important part of the government exam preparation. Candidates can find important current affairs from Edureify, the best AI learning app. You must refer to the weekly as well as monthly current affairs posted on the website for the aid of the students.  Read on the full section to find more about the today's current affairs.
National Current Affairs
1)Kerala govt to launch "Kerala Savari" online cab service
The Kerala government is all set to come up with an alternative to the popular corporate online cab service by launching its own e-taxi service next month, considered to be the first such initiative.

The service named 'Kerala Savari', the online taxi hiring service is being rolled out by the state. This is for the first time that a state government is launching an online taxi service in the country.
2)Tamil Nadu govt rolls out 'Chief Minister's Breakfast Scheme'
Tamil Nadu government has issued an order to implement the first phase of the Chief Minister's Breakfast Scheme at 1,545 government primary schools.

The cost would be Rs. 33.56 crores. Breakfast consisting of a meal with sambar and vegetables will be provided to children in all working schools.
3)Union Cabinet adopts a $1.6 billion BSNL revitalization plan
Ashwini Vaishnaw, Union Minister of Railways, Communications, Electronics and IT said, the Union Cabinet approved the Rs. 1.64 lakh crore revival package for BSNL.

Package announced by the government in 2019 has contributed to stabilising BSNL's financial situation. The loss of clients has come to an end.
International Current Affairs
1)Boris Johnson gives Churchill Leadership Award to Ukraine's Zelenskyy
British Prime Minister Boris Johnson has presented Ukrainian President Volodymyr Zelenskyy with the Sir Winston Churchill Leadership Award.

The Ukrainian leader received a standing ovation in the British Parliament in March when he invoked one of Churchill's most famous speeches and vowed to fight Russian troops in the air, sea and on the streets.
Business and Economy News
1)Egypt signs $8 billion agreement with India for Suez Canal Economic Zone
Egypt and an Indian company have signed a memorandum of understanding (MoU) to construct a green hydrogen factory in the Suez Canal Economic Zone.

The MoU states that Indian ReNew Power Private Limited (RENE.BO) will invest $8 billion to construct a facility that will create 20,000 tonnes of green hydrogen annually.
2)Union Bank sets 'RACE' goal as its strategy of getting among top 3 PSBs
A. Manimekhalai, MD & CEO of UBI, wants Union Bank of India to surpass other Public Sector Banks and take the third-largest Public Sector Bank position in a time of few years.

Union Bank of India may even take into consideration buying a bank along the route. Manimekhalai, who became UBI's first female leader on June 7th, emphasised that the bank has set "RACE" as its aim for the year.
3)India Received Highest Annual FDI Inflows Of USD 84.8 billion In FY 21-22
India received the highest annual FDI inflows of almost $ 85 billion in FY 21-22. India is rapidly emerging as a preferred country for FDI in the manufacturing sector.

FDI Equity inflow in Manufacturing Sectors have increased by 76% in FY 2021-22 ($ 21.34 billion) compared to previous FY 2020-21.
Political News
1)The Indian Government's Fight Against 'Fake News' Targets Political Dissent.
The details of the government notice were confidential, it said, but the company was taking Anthem for Kashmir offline in the country. The filmmaker wasn't surprised. "People have been thrown into prison for just Facebook posts," he says.

Under Indian law, including rules issued in 2021, executives at companies that don't comply with content removal requests could face jail time.
Miscellaneous News
1)Padma Shri awardee Sushovan Banerjee passes away
Padma Shri Sushovan Banerjee famous as Bengal's 'one rupee doctor' has passed away.

Based in Bolpur, Birbhum district, Banerjee was known for treating patients for nearly 60 years at Re 1 per visit. 

In 2020, he was conferred with the Padma Shri for his contribution in the field of medicine. In the same year, his name found a place in the Guinness World Records for treating the maximum number of patients.
This is the wrap up of today's edition of daily current affairs. Along with this, you can also attempt the daily current affairs quiz.
In case you have missed the important updates of yesterday, you can refer to 29th July, 2022 current affairs by Edureify.