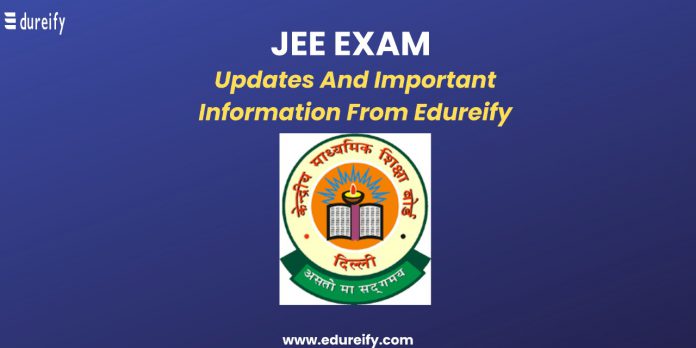 The Joint Entrance Exam, JEE, is one of the most deciding exams in India for the future engineers of the nation. The JEE exam helps select and distribute students amongst the various reputed engineering colleges in India. 
Every year the JEE exam is conducted by the National Test Agency, NTA. Edureify brings to you all the important details related to the exam that will help aspiring JEE candidates to be well aware of the exam.
Read on to know all the features related to the JEE Mains exam.
Eligibility 
To register for the JEE exam, candidates need to fulfill certain eligibility criteria that will enable them to appear for the exam.
The eligibility requirements for JEE are-
Educational Qualification- 
Interested candidates must have cleared their 10+2 exam from an Indian government recognized board, or an equivalent exam. Those who hold a diploma degree will also be eligible for the exam.
The minimum age of an interested candidate must be around 17-19, and there is no upper age limit. 
Those who are interested to appear for the JEE exam must have had the following subjects in their class 12-
Mathematics

Physics 

Chemistry 

Biology (optional)

Biotechnology (optional)
Exam Tiers
JEE is conducted in two rounds-
According to the various courses available, candidates need to clear the rounds as per requirements. 
Exam Pattern
For the JEE Mains, there are two papers in the exam which are-
Candidates who would like to opt for B.Tech or B.E must qualify for Paper I of the JEE Mains exam. And those who would like to opt for B.Arch or B.Planning must qualify Paper-II of the JEE Mains.
Exam Syllabus 
The most basic subjects that a candidate must be well versed in, in order to appear for the JEE Mains, are-
Edureify has a particular section dedicated to a personalized JEE PCM Quiz that will help students practice and improve their knowledge. 
Interested candidates can find the detailed syllabus, that too paper wise in our IIT JEE Examination 2022 blog.
Also, download the pdf of the JEE Mains Syllabus.
Best Books for JEE Mains
Following is a list of books that are certified to be of aid for the JEE Mains Exam preparation-
R D Sharma-

Mathematics for Class 12 (2 Volumes)

H.C Verma-

Concepts of Physics

 

Darrell D Ebbing-

General Chemistry

S L Loney-

The Elements of Coordinate Geometry

Amit Agarwal-

Integral Calculus for IIT-JEE

NCERT-

Chemistry XI and XII
Edureify by your side
Edureify has in store some of the best mock tests, quizzes, and doubt solving videos that will help students better prepare for the JEE Mains. As mentioned above also, Edureify has a particular section that will allow students to take quizzes meant for the JEE PCM part of their syllabus.
Edureify also has hoards of mock tests, study materials, and other learning videos that students can avail themselves of. We have curated all the vital materials that will surely help students have a wholesome experience preparing for the JEE Mains exam and also get their desired results. 
For all the important information related to the JEE Mains exam, stay tuned to Edureify and experience happy studying with us.