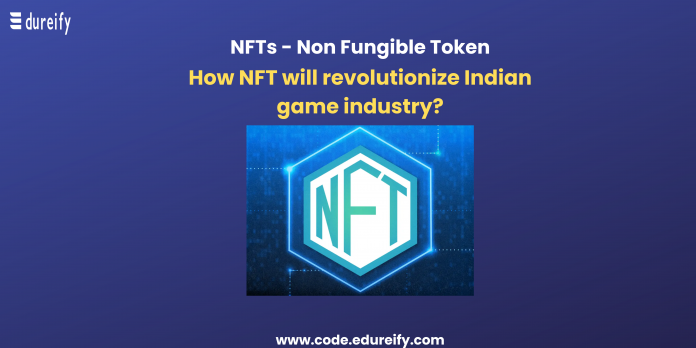 E-commerce has taken a whole new level of growth and success. With everything becoming digital, the concept of digital assets has also taken the e-commerce market by a storm. The Non-Fungible Tokens, NFTs are the digital assets that have made a great impact on the digital market making it a very hyped concept.
Edureify, the best AI Learning App has come up with the best online coding courses that teach all the important concepts related to the growing digital world. In this article, Edureify will clear all the doubts regarding the various concepts of NFTs. Read on to know more.
What is NFT?
NFT stands for Non-Fungible Tokens. Many of you might already be aware of the concept of cryptocurrencies. NFT is also created using a similar kind of programming language used to make cryptocurrency. NFTs are cryptographic assets like art, games, and music that are developed on blockchain technology. Unlike cryptocurrency, NFTs cannot be exchanged or equivalently traded.
Here are some key features of NFTs-
NFTs can neither be traded nor exchanged for it has unique properties that are non-fungible tokens
These are digital assets, i.e., they stand for internet collectibles like music, art, and games made with blockchain technology that has an authentic certificate
NFTs are very unique, i.e., they cannot be forged or manipulated in any way
NFTs use cryptocurrencies like Bitcoin for exchanges
Working of NFT
Now that one has a basic understanding of what are NFTs, one can better understand their workings. The following are the ways in which NFTs work-
NFTs are mostly found on the Ethereum cryptocurrency's blockchain which is a distributive public ledger that holds records of transactions
NFTs store valuable information in them and are individual tokens
NFTs hold a value that is already set by the market and its demand, and hence these are properties that can be bought or sold like actual physical properties
NFTs have a unique data, therefore their ownership can be easily verified and validated and can be transferred between owners
Uses of NFTs
NFTs are primarily used by people who are keen on crypto-trading and are connoisseurs of artworks. Along with these, there are also some other uses of NFTs, such as-
Used in Digital Content– NFTs are used significantly in digital content. Content creators now hold the power to own and profit from their content, courtesy of NFTs. They can publicize their work on a platform and hold ownership of their content.
For Gaming Items- Gamers and game developers are highly interested in NFTs for NFTs are very beneficial for gamers. In regular online games, a player can only limit themselves to buying items for their characters. But using NFTs, one can reimburse their money by selling their items once they are done with them.
As collaterals and investments- NFTs can be used as collaterals with the help of DeFi, Decentralized Finance. NFTs and DeFi have the same infrastructure. The DeFi application allows one to borrow money with the use of collaterals. Hence, NFTs when combined with DeFi can be implemented as collaterals.
Names of Domain- NFTs have the feature that can provide easy-to-remember names to one's domains. It functions like a website domain name that makes the IP address valuable and memorable.
Reasons for NFTs popularity
NFTs have been in the market since 2015. But only recently it has begun to make a remarkable buzz and gained popularity.
Some of the reasons behind the growing popularity of NFTs are-
The underlying technology of blockchain frameworks and cryptocurrencies utility
Along with the technology there is also the benefit of economic royalties, laws of scarcity, and a fandom. Users are very keen to own unique digital assets and keep them as investments.
By gaining ownership of some content by buying the non-fungible tokens, the content remains on the internet. Hence, NFTs gain popularity for the more it remains online, the more value it gains.
NFTs are very authentic and secure. With customized and unique names of each user and the blockchain technology in use, the NFTs are very safe for use.
NFT Project in India
The rising popularity and leading growth in the use of NFTs are also seeing increased use in the Indian digital market. There has been a recent project, 'The JorrDarr Event' that is launched by Digital Pratik. It is an NFT project that consists of 1254 tokens with 22 IPs that will primarily focus on branding, marketing, and motivation, and also represent its JorrParivar holders. The event was held in Ahmedabad on June 24, 2022.
For more news like this, check out Edureify's daily current affairs section and stay updated.
Difference Between NFT and other Cryptocurrencies
NFTs are designed using the same programming language as other cryptocurrencies, but there are certain differences between them. The following are the difference between NFT and Cryptocurrencies-
| | | |
| --- | --- | --- |
| S.No. | NFT | Other Cryptocurrencies |
| 1. | The NFTs act like digital signatures. It is therefore not possible for them to be forged or exchanged. | Cryptocurrencies can be exchanged and also have equal values for they are 'fungible'. |
| 2. | For example: the painting of Van Gogh's field of sunflowers is one of a kind and cannot be exchanged with anything. | For example: one rupee is always equivalent to one rupee. |
Edureify with its coding courses aims to provide its students with all the digital tools and skills that can help them become leading developers or programmers. With Edureify's coding courses, students can learn about-
Edureify also has a daily current affairs quiz section from which students can learn about the recent updates in the e-commerce and digital market.
Students can also benefit the following from the certified coding courses of Edureify-
200+ learning hours
Learn from the industry experts
Attend live classes
Participate in real-life projects
Get doubts cleared on the go
Get professional career guidance and access to Edureify's job portal
NFTs are indeed a huge economic benefactor that has made huge changes in the life of serious investors. Study about such interesting topics with Edureify and learn more with the coding courses on how to use such tools.
Some FAQs on NFTs-
1. What is the full form of NFTs?
NFT stands for Non-Fungible Tokens.
2. What is the primary use of NFTs?
NFTs are primarily used for crypto trading and the collection of artworks.
3. Briefly mention some other uses of NFTs.
Some other uses of NFTs are-
Use for Digital Content
To buy or sell gaming items
For collaterals and investments
For names of domains
4. Mention the name of the recent Indian project on NFT.
JorrDarr is the recent project launched by Digital Pratik on NFTs.
5. From where can I learn more about Blockchain that is used in NFTs?
Edureify has the best coding courses that teach students about Blockchains and other programming frameworks.