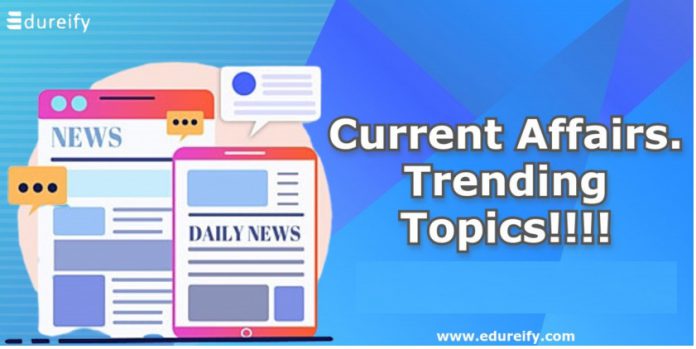 Current affairs are an important part of every government exam for which you appear today. Some of the exams such as SSC, Banking, RRB, WBCS, etc. highly focus on current affairs and also keep a great weightage on the question paper. Thus, it becomes necessary to be in touch with national and international affairs daily. Eduriefy brings to you today's edition of the important events happening in and around the world. 
Read more about today's daily current affairs.
National Current Affairs
1)UP Government appoints Deloitte India to make UP a $1 trillion economy
Uttar Pradesh Government signs MoU with Deloitte India and appointed it as a consultant to improve the economic status of the state.

In the presence of Chief Minister Yogi Adityanath, the MoU was signed between the consultancy agency and the government of Uttar Pradesh.
2)Indian Army conducts pan-India drill 'Skylight' to test operational readiness
The Indian Army has conducted a pan-India satellite communication exercise named 'Ex Skylight', in the last week of July.

The main objective of this exercise was to test the operational readiness and robustness of its hi-tech satellite communication systems, in the event of an attack by an adversary.
International Current Affairs
1)ASEAN Has Celebrated Its 55th Anniversary In 2022
External Affairs Minister Dr S. Jaishankar congratulated ASEAN Member States and the Secretary General on their 55th anniversary. In a tweet, he said, we celebrate 2022 as the ASEAN-India Friendship.

The ASEAN-India Centre (AIC) at Research and Information System for Developing Countries (RIS), New Delhi, organised a panel discussion to celebrate the 55th Anniversary of ASEAN on Monday.
2)Gustavo Petro sworn in as first leftist President of Colombia
Gustavo Petro has been sworn in as the first leftist president of Colombia. The 62-year-old is a former member of Colombia's M-19 guerrilla group as well as a former senator and mayor of Bogota.

He succeeds Ivan Duque. Mr Petro is part of a growing group of leftist politicians and political outsiders who have been winning elections in Latin America since the pandemic broke out. 
Business and Economy News
1)SBI's first-quarter net profit fell by 7% to Rs. 6,068 billion
Due to a reduction in revenue, State Bank of India, reported a 7% decline in standalone net profit for the first quarter of the current fiscal year, coming in at Rs 6,068 crore.

SBI reported in a regulatory filing that its standalone total income decreased to Rs 74,998.57 crore in the first quarter of 2022–23 from Rs 77,347.17 crore in the same period last year.
2)Indian Bank received a Rs. 32 lakh fine from the RBI
In accordance with paragraph 3.2.6 of Reserve Bank of India (Frauds, classification and reporting), the Reserve Bank of India fined the Indian Bank a total of Rs. 32 lakh.

A notification was sent to the bank in response to this, instructing it to provide justification for not facing a penalty for failing to follow RBI instructions.
Sports News
1)2026 Chess Olympiad to be hosted by Uzbekistan
According to a tweet from the FIDE, Uzbekistan will host the 2026 Chess Olympiad. In Chennai's ongoing Chess Olympiad, their young team is now in the lead.

The event is organised by FIDE, which also chooses the host nation. In the midst of the COVID-19 pandemic, FIDE hosted an online chess tournament in 2020 and 2021 with a quick time limit that harmed competitors' online ratings.
This was the wrap up of today's edition and you can also attempt the today's daily quiz of current affairs.